Velocette MK1 from 1951, made by Veloce Ltd. It's the first version of LE ("Little Engine") motorcycle, with 149 cc engine. In 1951 MK2 was introduced, with bigger and more powerful engine, and in 1958, Veloce launched the MK3 LE (see Velocette LE MK3 1958). The model was launched at the Earls Court Show in 1948 as the "Motorcycle for Everyman". The vehicle is restored (more information).
Velocette is the name given to motorcycles that were made by Veloce Ltd, in Hall Green, Birmingham, England. One of several motorcycle manufacturers in Birmingham, Veloce was a small, family-owned firm, selling far fewer hand-built motorcycles than the giant BSA, Norton or Triumph concerns. The company was renowned for the quality of its products and succesful in motorcycle racing. It got two World Championship titles (1949–1950 350 cc) and the legendary and still-unbeaten (for single-cylinder, 500cc machines) 24 hours at 100 mph (161 km/h) record. Veloce, while small, was a great technical innovator and many of its patented designs are commonplace on motorcycles today.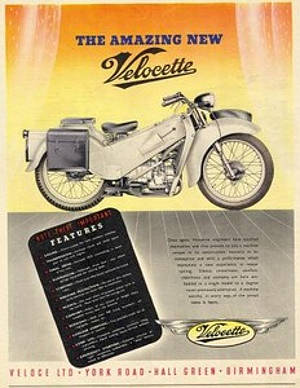 After the Second World War, the company sought to capture what it saw as a developing need for personal transport and created the LE model (for "Little Engine"). This was a 149 cc water-cooled flat-twin with side-valves, a pressed steel frame and telescopic forks and swingarm. Veloce's director, Eugene Goodman, planned an innovative and radical design that would appeal to a new market that needed cheap, clean and reliable transport. Designer Charles Udall developed the Velocette LE as a "conceived-as-a-whole" design, with engine, gearbox, drive shaft and bevel box in a single unit to do a specific job. It was sophisticated and expensive. Unfortunately it proved less successful than the firm had anticipated, and although it became Veloce's best selling model ever, the massive tooling costs for this all-new machine were barely recouped. It did see widespread adoption by British police forces for urban patrol.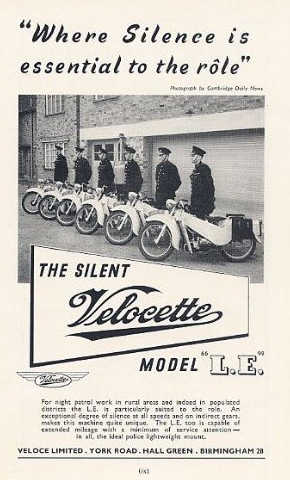 With a 149 cc four-stroke, water-cooled, horizontally opposed twin-cylinder engine, the LE also had a radiator and was fitted with coil ignition to help starting. The three-speed gearbox, engine and clutch were contained in special castings, and final drive was by a shaft mounted in a swing frame with adjustable suspension. Aluminium leg shields were designed to keep the rain off, and footboards gave it a scooter feel. Instruments included a speedometer and trip recorder. To reduce noise and vibration, the engine was rubber mounted, and the pressed steel frame was lined with soundproofing felt. The water-cooled engine was actually well silenced, and riders reported that sometimes they only knew the engine was running was by checking the ignition light. Carrying capacity was boosted by quickly detachable panniers and a "glove compartment" in front of the petrol tank. All this made the MK1 LE expensive, however, at £126 compared with the BSA Bantam at £76. As a result, the sales were below the company's expectations.