The company began in 1885 when Siegfried Bettmann emigrated from Nuremberg, part of the German Empire, to Coventry in England. In 1884, aged 20, Bettmann founded his own company, the S. Bettmann & Co. Import Export Agency, in London. Bettmann's original products were bicycles, which the company bought and then sold with its own brand name. Bettmann also distributed sewing machines imported from Germany.
In 1886, Bettmann sought a more general name, and the company became known as the Triumph Cycle Company. A year later, the company registered as the New Triumph Co. Ltd. and Bettmann was joined as a partner by another Nuremberg native, Moritz Schulte.
Schulte encouraged Bettmann to transform Triumph into a manufacturing company, and in 1888 Bettmann purchased a site in Coventry using money lent by his and Schulte's families. The company began producing the first Triumph-branded bicycles in 1889. In 1896 Triumph initiated a factory in Nuremberg for bicycle production in Bettman's native city.
In 1898, Triumph decided to extend its own production to include motorcycles and by 1902, the company had produced its first motorcycle—a bicycle fitted with a Belgian Minerva engine. In 1903, after selling more than 500 motorcycles, Triumph began motorcycle production at its unit in Germany. During its first few years producing motorcycles, the company based its designs on those of other manufacturers. In 1904, Triumph began building motorcycles based on its own designs and in 1905 produced its first completely in-house designed motorcycle. By the end of that year, the company had produced more than 250 of that design.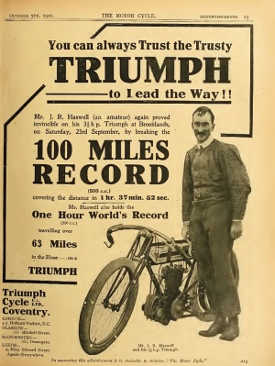 In 1907, after the company opened a larger plant, it produced 1,000 machines. Triumph had also initiated a second, lower-end brand, Gloria, produced in the company's original plant. Confusion between motorcycles produced by the Coventry and Nuremberg Triumph companies resulted in the latter's products being renamed Orial for certain export markets. However there was already a company Orial in France so the Nuremberg motorcycles were renamed again as "TWN", representing Triumph Werke Nürnberg. The beginning of World War I was a boost for the company as production was switched to provide for the Allied war effort. More than 30,000 motorcycles—among them the Model H Roadster also known as the "Trusty Triumph", often cited as the first modern motorcycle—were supplied to the Allies.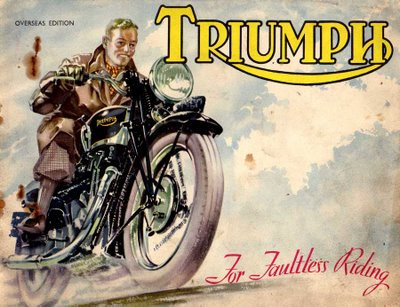 After the war, Bettmann and Schulte disagreed about planning, with Schulte wishing to replace bicycle production with cars. Schulte ended his association with the company, but during the 1920s Triumph purchased the former Hillman company car factory in Coventry and produced a saloon car in 1923 under the name of the Triumph Motor Company. By the mid-1920s Triumph had become one of Britain's main motorcycle and car makers.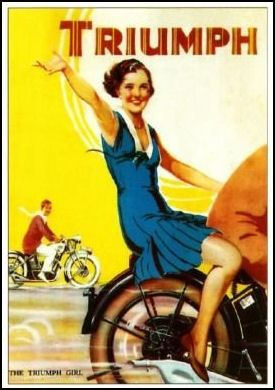 When the Great Depression began in 1929, Triumph sold its German subsidiary as a separate, independently owned company, which later merged with the Adler company to become Triumph-Adler Company. The Nuremberg company continued to manufacture motorcycles as TWN (Triumph Werke Nürnberg) until 1957. In 1932, Triumph sold another part of the company, its bicycle manufacturing facility to Raleigh Bicycle Company. By then, Triumph had been struggling financially, and Bettmann had been forced out of the job of chairman. He retired completely in 1933. In 1936, the company's two components became separate companies. Triumph always struggled to make a profit from cars, and after becoming bankrupt in 1939 was acquired by the Standard Motor Company. The motorcycle operations fared better, having been acquired in 1936 by Jack Sangster, who also owned the rival Ariel motorcycle company.
The same year, the company began its first exports to the United States, which quickly grew into the company's single most important market. Sangster formed the Triumph Engineering Co Ltd. largely directed by ex-Ariel employees, including Edward Turner who designed the 500 cc 5T Triumph Speed Twin—released in September 1937, and the basis for all Triumph twins until the 1980s. Motorcycles were produced at Coventry until World War II. After Coventry was bombed, tooling and machinery was recovered from the site and production restarted at the new plant at Meriden, West Midlands in 1942.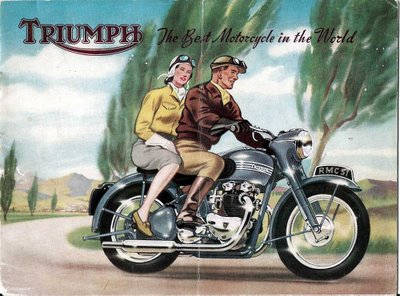 After war Triumph continued its Speed Twin and Tiger 100 models, and soon other models followed, including the famous Thunderbird (the TR6SS predecessor) and Bonneville. Nearly 70% of Triumph's postwar production was exported to the United States. The Triumph brand received considerable publicity in the United States when Marlon Brando rode a 1950 Thunderbird 6T in the 1953 motion picture, "The Wild One".
The Triumph Motorcycle concern was sold to their rivals Birmingham Small Arms Company by Sangster in 1951. This sale included Sangster becoming a member of the BSA board. Sangster was to become Chairman of the BSA Group in 1956. After the union, both motorcycle makes still competed with each other.
In 1969 Malcolm Uphill, riding a Bonneville, won the Isle of Man Production TT race with a race average of 99.99 miles per hour (160.92 km/h) per lap, and recorded the first ever more than 100 miles per hour (161 km/h) lap by a production motorcycle at 100.37 miles per hour (161.53 km/h). In spite of this, the next decade turned out to be difficult time for Triumph and BSA. They weren't able to compete with Japanese manufacturers any more. BSA suffered big losses in 1971 and was overtaken by Manganese Bronze Holdings, which also owned Norton, AJS, Matchless, Francis-Barnett, James-Velocette and Villiers. In 1972 a new company emerged, named Norton Villiers Triumph (NVT). The Meriden factory was finally closed in 80s.