The TR6SS was made by Triumph, in Meriden, from 1962 to 1966. It belonged to Triumph Trophy model family. Like other 650 cc Triumph models, in 1963 Trophy was completely rebuilt; it gained unit construction and magneto was replaced by coil ignition.
The genesis of the model came with the introduction of the 650 cc Thunderbird Model in 1950. This was released to meet the demand for higher capacity motorcycles, particularly from the United States, Triumph's largest export market. In 1954 the T110 model was introduced, a higher performance version of the Thunderbird. The success of these models led to the creation of a 650 cc TR6 Trophy model in 1956. It was developed and produced specifically for the USA market, in particular, California desert racing. The model used the same engine as the T110 but with the new "Delta" alloy cylinder head. The engine used 8.5:1 compression ratio and developed 42 bhp. The power delivery made the mount ideal for off-road competition, for which the model is well known. The bike sported a 'siamese' (two-into-one) exhaust system and a 7-inch front brake. It was fitted with the quick detachable headlamp, which was ideal for bikes ridden to competitive events and back again. This used a multipin connector which plugged into the bottom of the headlamp shell.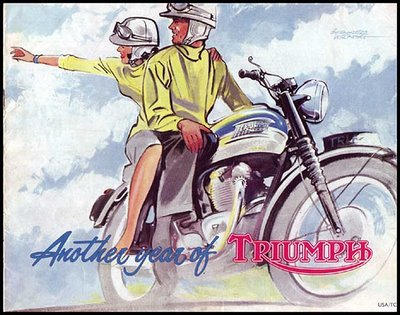 For 1957 the front brake was enlarged to 8 inches. The TR6 was now fitted with a Lucas Red Label Competition Magneto as standard. For 1959 the Trophy was offered in two variants: TR6/A and TR6/B. The TR6/A was the roadster model with low pipes and the TR6/B was the high-piped street-scrambler. After Edward Turner, the fabled Triumph designer, witnessed the death of a young rider on a TR6, at the 1960 Big Bear Run, due to frame failure it immediately received a stronger steering head.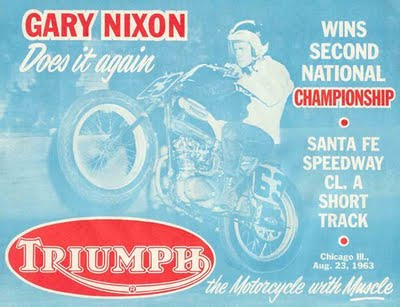 For 1961 the home model was named the TR6 whereas the USA export models were named TR6C for the competition model and TR6R for the road model. Ruby Red and Silver was used for all of them. For 1962 the USA models were renamed TR6SR and TR6SC. Introduced in 1962 and offered through 1966 was the TR6SS model which sported a two-into-one exhaust, but was otherwise similar to the road going model. SS stands for "Street Scrambler", a motorcycle category popular in 60s.
Scramble was a traditional competition in Britain, where much of the way was cross country. In the USA there were desert scrambles in California, where street bikes were modified to race off road. Street scrambler was basically a road bike with minor adjustments helping to ride off-road, when necessary.