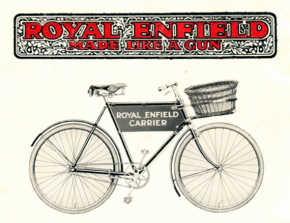 Enfield was a British company dating from 1893 (see Enfield. The Beginning). Their first motorized vehicles were built in 1899. In this year they introduced tricycles and quadricycles with De Dion engines. They also experimented with motorized bicycles, using Minerva engine. In 1910 Enfield built the first real motorcycle, with a V-twin MAG engine of 2,25 HP. It developed into Royal Enfield Model 180 from 1912, sold with and without a sidecar. Model 180 with a 770 cc V-twin JAP engine raced successfully in the Isle of Man TT and at Brooklands.
"Royal Enfield" name was used first time for Enfield's motorcycles in 1911. Prior to the outbreak of WW1 in 1914, Enfield supplied large numbers of motorcycles to the British War Department and also won a motorcycle contract for the Imperial Russian Government. Enfield used its own 225 cc two-stroke single and 425 cc V-twin engines. They also produced an 8 hp motorcycle sidecar model fitted with a Vickers machine gun. In 1921, Enfield developed a new 976 cc twin, and in 1924 launched the first Enfield four-stroke 350 cc single. In 1928, Royal Enfield began using the bulbous 'saddle' tanks and centre-spring girder front forks, one of the first companies to do so. Even though it was trading at a loss in the depression years of the 1930s, the company was able to rely on reserves to keep going. In 1931, Albert Eadie, one of the founders of the company, died and his partner R.W. Smith died soon afterwards in 1933. Smith and his three sons (all of them motorcycle enthusiasts and succesful racing riders) were running the business for decades; Frank Smith was in charge until 60s.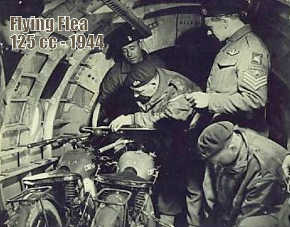 During WW2 Enfield manufactured military motorcycles. The models produced for the army were the WD/C 350 cc sidevalve, WD/CO 350 cc OHV, WD/D 250 cc SV, WD/G 350 cc OHV and WD/L 570 cc SV. One of the most well-known Enfields was the Royal Enfield WD/RE, known as the Flying Flea, a lightweight 125 cc motorcycle designed to be dropped by parachute with airborne troops. In order to establish a facility not vulnerable to the wartime bombing of the Midlands, an underground factory was set up, starting in 1942, in a disused "Bath Stone" quarry at Westwood, near Bradford-on-Avon, Wiltshire.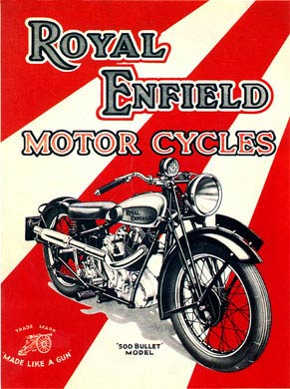 After the war the underground factory continued, concentrating on engine manufacture and high precision machining. Royal Enfield resumed motorcycle production as well. The company also bought surplus of their own motorcycles from the army and these machines were offered for sale. Enfield was building succesful street and trial models until 70s. In 1968 original Redditch, Worcestershire based company was sold to Norton-Villiers-Triumph (NVT). Production ceased in 1970 and the company was dissolved in 1971. In 1956 Enfield of India started assembling Bullet motorcycles under licence from UK components, and by 1962 were manufacturing complete bikes. Enfield of India bought the rights to use the Royal Enfield name in 1995. Royal Enfield production, based in Chennai, continues and Royal Enfield is now the oldest motorcycle brand in the world still in production with the Bullet model enjoying the longest motorcycle production run of all time.

Advertisement in an English school magazine published in July 1946 (click to enlarge)