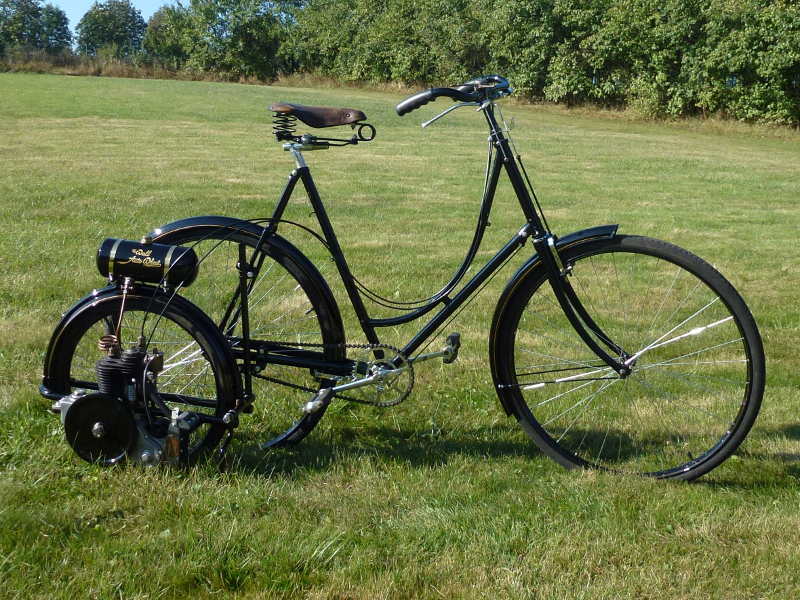 Wall Autowheel engine with 1908 Singer de Luxe bicycle.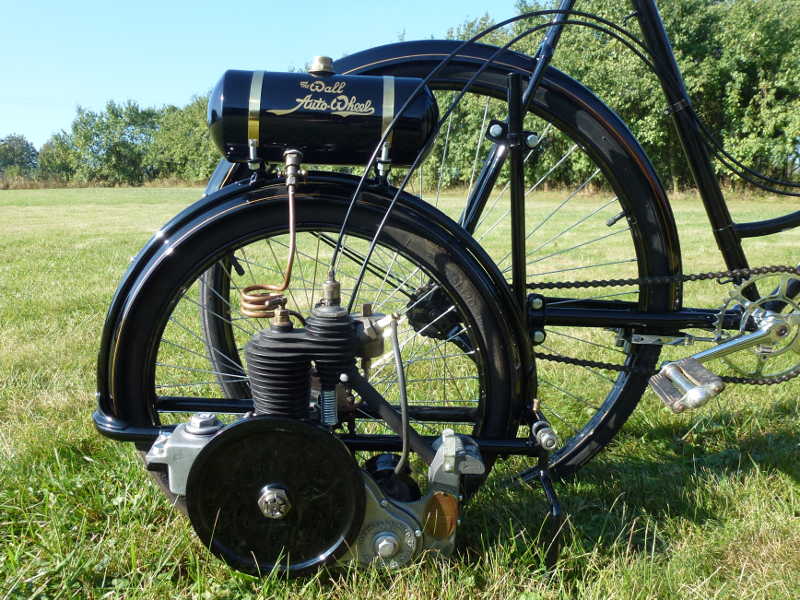 Wall Autowheel was patented (No. 14,967) by Arthur W. Wall of Birmingham in 1908 and made by Auto-Wheels Ltd in London, UK in years 1909-1914 (according to some sources, to 1919) A 20-inch (508mm) tyre is fitted to a one horsepower single-cylinder, air-cooled petrol engine 118 cc. Atmospheric inlet valve and side exhaust valve. The engine was mounted in a sub frame that attached to an everyday pedal cycle at three points, that engine driving to its own integral wheel, thus effectively creating a three-wheeler. It was controlled by a single lever and cable fitted to the handlebars. It was popular prior to the First World War in Europe and continued to be sold in Australia during the war.
Auto-Wheel debuted at Stanley Show in 1909, "The chief novelty, of course, was the introduction of the Wall Auto-Wheel that is made in Birmingham and aims at enabling any who desire to transform an ordinary bicycle into a power-driven machine by takin a supplementary wheel and attaching it by fork to the side of the machine at the back. The price is designed to be exceedingly moderate, so that the invention may be within the range of practically all purposes, for the whole accesory, including motor and ignition, will be supplied for the price of ordinary bicycle a few years ago. The power unit is absolutely independent of the cycle, being attached to it by means of two clamps, one to the off-side back fork and the other to the off-sidechain stay. The motor is a small, two-stroke engine fed by a floatless carburettor, the fly-wheel is contained in the hub of the wheel, and the gearing is on the epicyclic system." (from "Stanley Show features" 1909 press article)
The Smith Motor Wheel and Briggs & Stratton Motor Wheel were developments of the Wall Autowheel.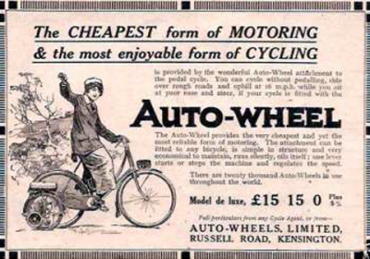 "In my opinion, the most important cyclemotor model of the many hundreds of types produced throughout the 20th century is undoubtedly the Wall Auto-wheel. Absolutely brilliant in its design concept in terms of functionality and ease of attachment to the host cycle, the Auto-wheel influenced manufacturers for decades to come, who obviously had to use its design as a benchmark for the quality of their own product." (oldbike.eu)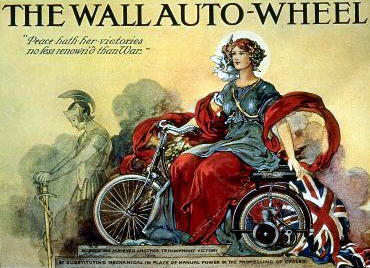 "It was shown on stand 88 at the Stanley Show. The horizontal engine of 1½" bore and 2" stroke was an air-cooled, two-stroke, flat twin; only one cylinder fired; the other, by way of a long truncated piston, pumped the charge into the working cylinder. The hub contained a flywheel and 6:1 reduction gears. The mudguard was the oil and petrol tank. The marque has been very active lately and some of the points raised are members asking about engine numbers. As far as I know (with the usual disclaimer) Autowheel numbers started at 3000 for 1913. They claimed to have sold 1,750 units that year so this would mean that at the end of 1913 they should have reached 4750. I own a 1913 model with engine number 4436. For 1914 they started at 4000 but, as they had already used 750 of this series they must have started at 4750. The claim for 1914 was that 10,000 units had been laid down: 5,000 by Autowheels and 5,000 by BSA. If this claim was carried out then 1914 Autowheels engine numbers should have reached 9750.1913 early units had tubular engine mounts front and rear, induction direct over the inlet valve and no silencer box on the front engine mount; later 1913 models had a platform engine mount at the back and tubular at the front. 1914 models have platform mounts front and rear, induction into the side of the cylinder block and an exhaust box in the front engine mount." (Ken Thomas, www.users.globalnet.co.uk)