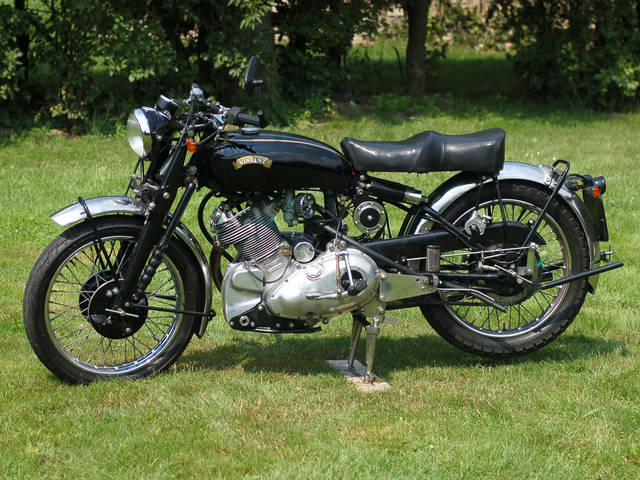 Vincent Comet from 1952. According to many riders, Vincent motorcycles are the most perfect motorcycles in the world. The company managed to build machines both very fast and very reliable. Vincent user had just to change tyres, the chain and brake shoes to ride first 161 000 km. The engine needed renowation between 300 000 and 800 000 km. The frame was designed to bear 1,6 mln km. Because of its high quality, the Vincent Comet was also the most expensive single cylinder motorcycle in the world. Vincent Comet is a predecessor of the legendary Vincent Black Shadow, designed in the late 1930s. Popular belief is that Black Shadow's V-twin engine was constructed by putting together two Comet engines. One of Vincent dealers commented: "Comet may be just half of Black Shadow, but this is the best half". The Comet was developed in 1935 and it remained as part of the Vincent line-up until 1955, when Vincent ceased production of all of its motorcycles.
"The Vincent motorcycle story begins in 1927 when Phillip Vincent bought the remnants of the HRD motorcycle business. HRD had been a company owned by Howard R. Davies (hence the initials HRD) that produced high quality motorcycles using JAP engines, but whose business was run poorly. Phillip Vincent had a some great ideas for a motorcycle rear suspension, so the initial Vincent-HRD motorcycles were first built with JAP engines, but using the new Vincent-designed pivoting triangular rear frame. In the early part of the 20th century, the biggest motorcycle racing was the Tourist Trophy (TT) races on the Isle of Man. The Vincent-HRD motorcycles were raced in the TT races with some success. But the turning point came in the 1934 TT when Vincent-HRD entered three motorcycles in the TT races, but all three had engine problems. As a result, Vincent-HRD decided to produce their own engine. The result 499cc engine was an air-cooled, four-stroke single cylinder engine that produced 28 horsepower at 5,800 rpm. The same engine in the Vincent Meteor, a more touring style motorcycle, produced 24 horsepower. The Vincent Comet had a four-speed transmission with the shifter on the right side. The Vincent Comet was capable of cruising easily at 80 to 90 mph and had a top speed approaching 100 mph. The engine had an "oversquare" design with the piston stroke being 90mm, while the cylinder bore was only 84mm. This made the engine more responsive to the throttle. Driven normally, the Vincent Comet could provide about 55 miles per US gallon." from stevemckelvie.wordpress.com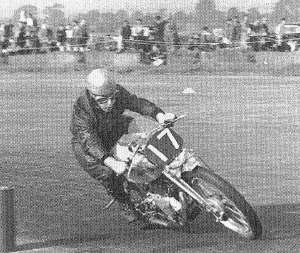 Seventeen-year old John Surtees on Grey Flash, the racing version of the Vincent Comet. John Surtees' father was a dealer in London for Vincent, therefore Vincent was the first racing bike of the famous rider. Surtees rode Vincent bikes with success until 1952, when he joined Norton team.
Vincent was also manufacturer of motorized bicycles. See: Vincent Firefly