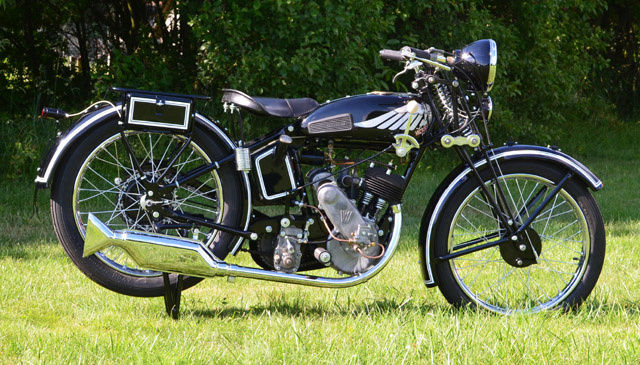 Rare German Victoria KR20 motorcycle from 20's with 196.5cc SV engine. See also: Victoria 100 and: Victoria auxiliary engine.
Victoria KR motorcycles
The decade of the 1920's was successful for the Nurnberg company. In 1920 Victoria launched the model KR 1 fitted with 494 cc BMW twin-cylinder side-valve flat twin (boxer engine) mounted longitudinally in the motorcycle frame. The engine produced 6.5 bhp (4.8 kW) and transmission was via a two-speed gearbox. When BMW started making its own motorcycles, Victoria turned to making its own engines. In 1923 Victoria launched its KR 2, an overhead valve (OHV) flat twin producing 9 horsepower (6.7 kW). In 1924 Victoria followed this with the KR 3, which produces 12 horsepower (8.9 kW) and has a 3-speed gearbox. In 1925 Victoria built Germany's first forced induction engine, and in 1926 a 496 cc Victoria achieved a motorcycle Land speed record of 165 km/h (102.5 MPH). In 1927 Victoria launched the 596 cc KR VI or KR 6. Based on this model the factory offered a high-speed sports model with twin carburettors that produced 24 bhp (18 kW), later named the KR 7. At the same time Victoria also offered the 200 cc side-valve KR 20 and 350 cc overhead valve KR 35 models. In 30s, two 500cc motorcycles were introduced (KR 8 and KR 9) as well as several lightweight models.