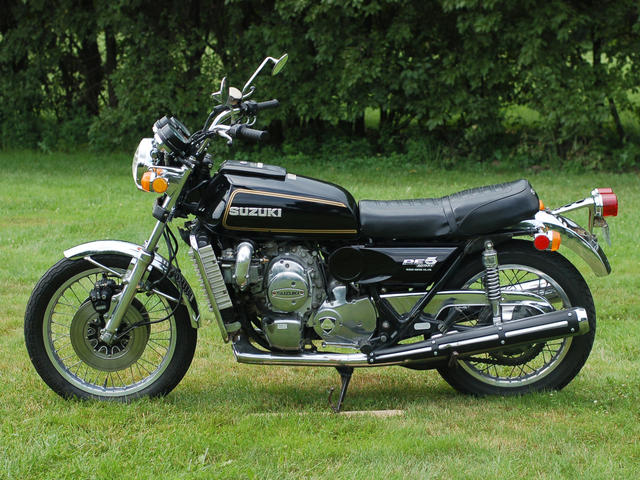 Suzuki RE5, "A" model from 1976, an example of the very few Wankel engine motorcycles that were produced. Despite having only a single rotor, the RE5 was mechanically complex and was a heavy motorcycle. Rotary engines produce high power figures from relatively small displacements. Still, the rotary engine produced a lot of heat, which required a number of subsystems such as water and oil cooling and modifications to engine components such as the exhaust pipes.
Suzuki RE5 was manufactured by the Suzuki Motor Company from 1974 and withdrawn during 1977. All four major Japanese manufacturers had prototypes or plans. Yamaha showed their Rotary at the Tokyo Motor Show in 1972 (the twin rotor RZ-201). Kawasaki tested a prototype as, allegedly, did Honda. In Europe, Hercules and Norton marketed rotaries along with a small run by Van Veen (this company used a derivative of NSU/Audi engines developed for Citroën).
There were only two production models of the RE5, the 1975 M model available in "Firemist Orange" or "Firemist Blue" and the 1976 "A" model available in black (blue was shown as an option on the "A" model brochure although they may never have actually been produced). Many "A" models were unsold M models. Suzuki supplied kits to dealers allowing them to swap a number of items, including gauges and lights, on unsold 1975 models converting the bikes to 1976 "A" models. Suzuki commissioned Italian industrial designer Giorgetto Giugiaro for the RE5 styling. The "tin can" instrument cluster encompassed the usual lights and a low-fuel warning light, total loss oil tank light and digital gear indicator. This tubular "can" motif was also used in the tail light, and spherical indicator lights finished off the "rotary" theme. The 1976 "A" model returned to more conventional styling. Other changes for 1976 included a color change for the tank and side covers, blinkers, tail lights and headlight housing. The RE5 could also be optioned with a full touring kit. This included a large full fairing and windscreen, two saddlebags, a large rack and top box. Suzuki later made available bolt-on exhaust extensions which prevented damage to the underside of the saddle bags by the hot exhaust gases. An optional touring saddle may have been also available.
The UK-based Rotary Owner's Club records the Suzuki's earliest serial number as 10049 and the highest 16291. This indicates total production number of about 6000 bikes for both models.