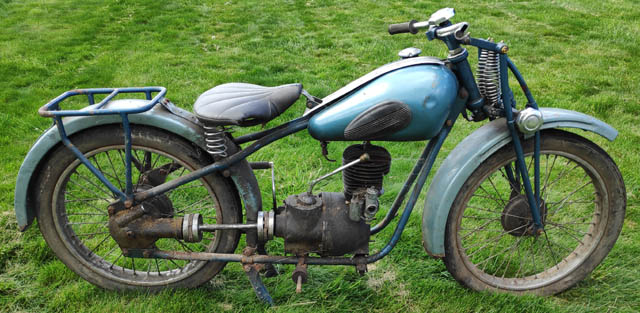 "Sophisticated in design, these included shaft-drive motorcycles with their own Heuss-designed power units of 173cc to 298cc.
The original machine was built in Berlin-Niederschöneweide by a company named Stock Motorpflug AG starting in early 1924; initially they produced motorized farming machinery. This company belonged to Richard Kahn of Mannheim who owned various manufacturing enterprises in Germany.
In the early 1920s Kahn began production of small motorcycles and used as a pattern the machines produced by the Evans Motor Cycle Company, USA, which had recently ceased trading. The source of the design was credited in their advertising, and these 119cc machines were built by Stock, relatively unchanged, until 1928.
That year Stock employed a mechanical engineer named Josef Heuss who designed an entirely new machine, the Stock Kardan. These elegant and sophisticated machines had shaft drive and features such as an illuminated speedometer and a clock incorporated in the headlight.
In the early 1930s production was moved to another of the Kahn group's facilities at the Schnellpressenfabrik works in Heidelberg.
Richard Kahn, of Jewish descent, left the company around 1931, and Deutsche Bank foreclosed in 1933. The German banks did very well indeed during this period.
In total Stock produced some 30,000 motorcycles." (from cybermotorcycle.com)