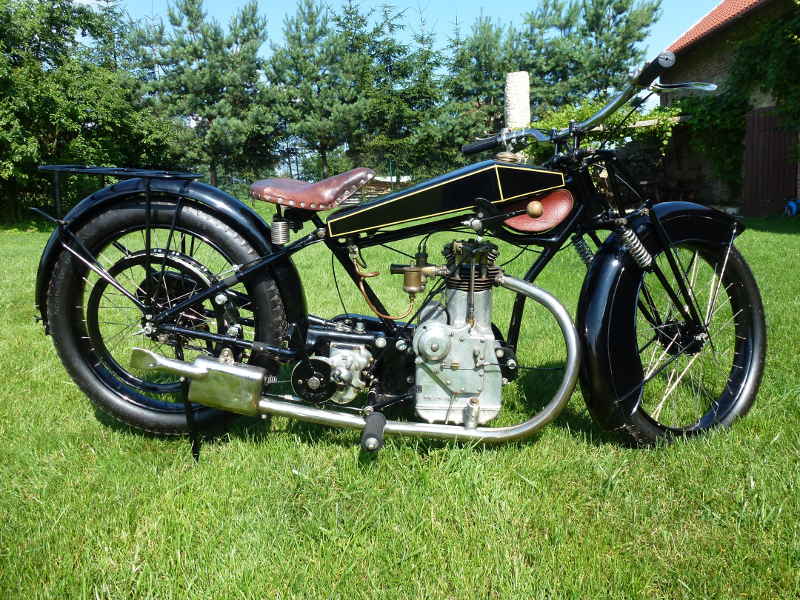 Sheffield Henderson from 1922, fitted with the oil-cooled OHV Bradshaw engine with outside flywheel.
Henderson was first a trade name of sidecars, manufactured by the Aero Works of Fitzwilliam Street, Sheffield. In November 1919 the company announced the "Sheffield Henderson Motorcycle", designed by Leonard B. Henderson, who was an aeronautical engineer. In a relatively short time the make gained a fantastic reputation in speed events; in June 1922 the factory even claimed several world records in the 250 cc class. Sheffield Hendersons could be had with a side valve or overhead valve Blackburne engine or a Bradshaw engine. The machine had a three speed Burman gearbox. "The Motor Cycle" wrote in 1922 :" Their curious but not unattractive-looking frame construction is now familiar to most people." Indeed, Sheffied Henderson must have been one of the very few makes that placed the toolbox under the top tube behind the steering head, a position that obviated a rather unusual tank shape, an early form of saddle tank. However, fame was short-lived: Sheffield Henderson motorcycle production ended in 1923.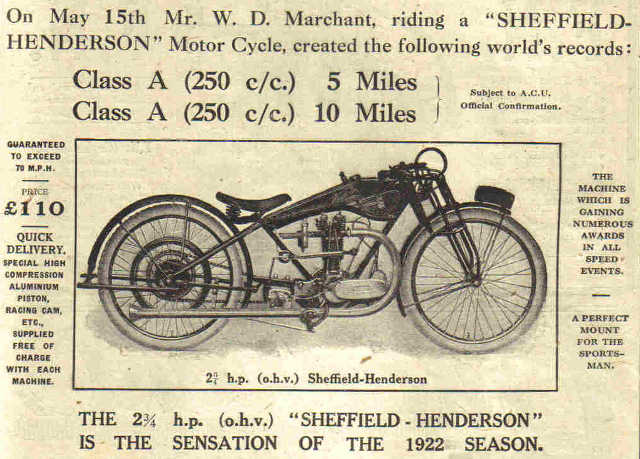 1920. Sheffield Henderson offered 3hp two-stroke model with their own engine and two-speed chain-cum-belt transmission. The company introduced their own design of front fork, with C-spring linking the double tubed girder to the frame head. By late in the year, a 499cc sv Blackburne model had been added. It was ideally suited to sidecar usage. The machine could be had with a side valve or overhead valve Blackburne engine or a Bradshaw engine.
1921. A new model was introduced, fitted with the 348cc ohv Blackburne engine.
1922. That new model was catalogued and sold with a guarantee of 70mph/112kmh. There was also a sporting sidecar outfit with a tuned 545cc sv Blackburne engine and streamlined sidecar. In June, the factory claimed several world records in the 250cc class.
1923. The marque did not survive beyond the end of the year.