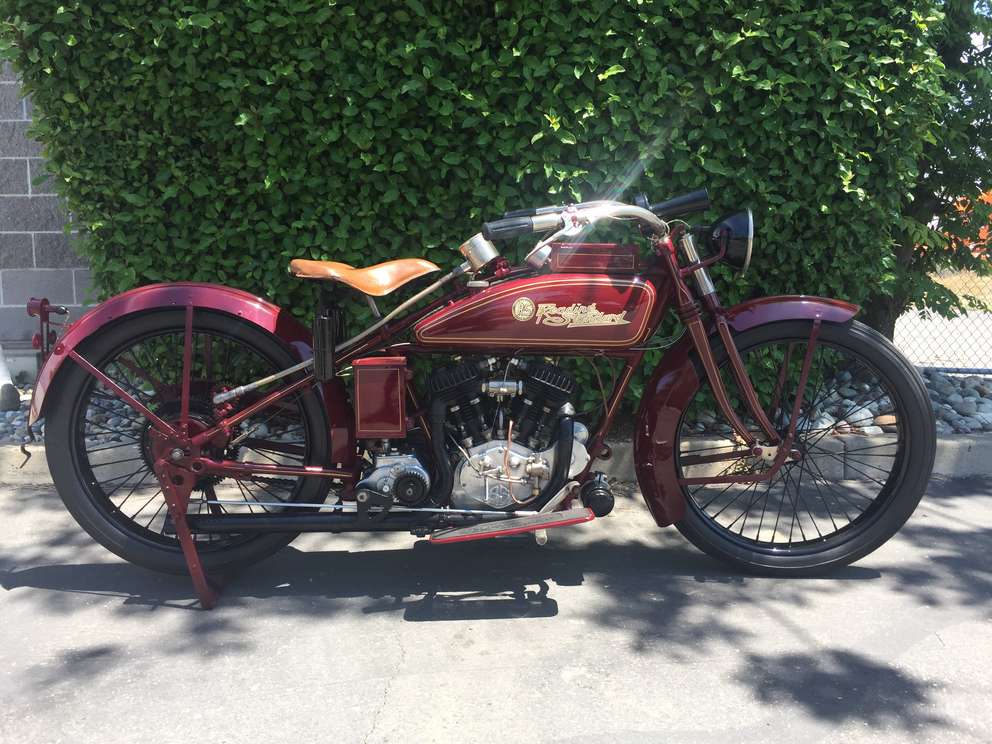 1923 Reading Standard motorcycle, 1000cc. Reading Standard motorcycles were manufactured in a facility on River Street in Reading, Pennsylvania, from 1903 to 1923. They were often advertised as "R-S" motorcycles. The company slogan "Built and Tested in the Mountains" was adopted, when Reading Standard motorcycle become the first motorized vehicle to climb Pike's Peak.
First Reading Standard motorcycle was basically a clone of Indian make, fitted with Thor engine. The company started to build their own engines in 1906. This one-cylinder engine was the first flathead motorcycle engine offered by an American manufacturer.
In 1907 Reading Standard began racing and won their first 1000-mile endurance race.
In 1908 the first Reading Standard V-twin came out. It had conventional F-head configuration — overhead intake valve and side exhaust valve. What was really weird was the valve positions: the front cylinder had the valves on the left side, while the rear cylinder had the valves on the right side. These engines had 722 cc (44 cubic inches) displacement.
In 1910 Reading Standard got out of the racing business and began to direct their attention to retail sales. They have also enlarged their V-twins. By 1913 990cc (60 cubic inches) and 1180cc (72 cubic inches) models were sold.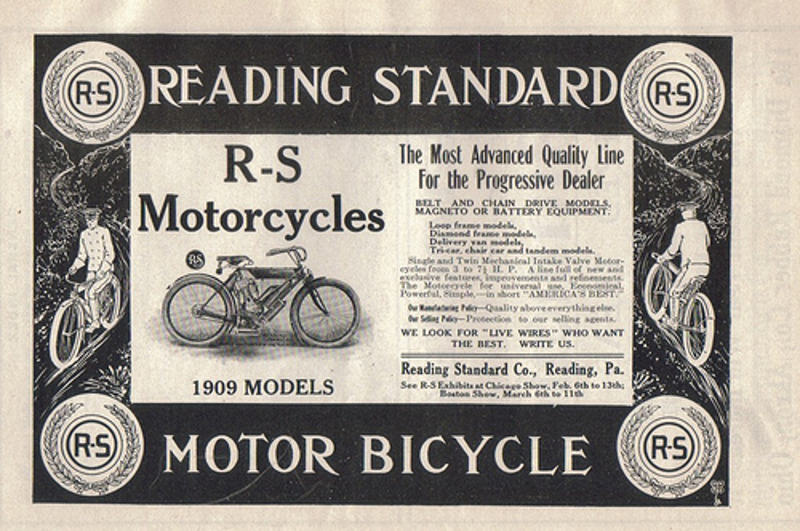 The sales started to fall down in 1914, and in 1922 the company was sold out to the Cleveland Motorcycle Company (see: Cleveland). In 1923 Cleveland marketed last model of Reading Standard as a low-price alternative to their own motorcycles. One year later Cleveland Motorcycle Company itself went up for sale and the Reading Standard name disappeared forever.