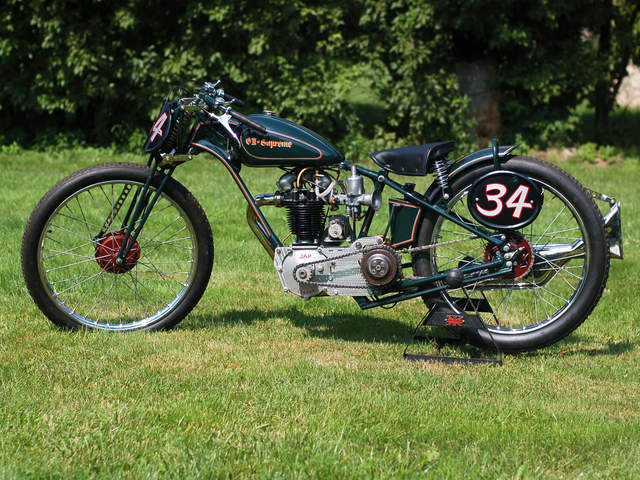 Racing motorbike from 1934. It had been left on Isle of Man and had spent many years there, before it became part of this collection. A spare engine was preserved, too; see JAP engine section.
OK Supreme
OK Supreme motorcycles were manufactured in Birmingham from 1926 to 1939. The OK Supreme Company of Birmingham was a family concern of father Ernest Humphries, son John and daughters Freda and Alice. It was established in 1926 when Humphries and his partner Fred Dawes split after making O.K. machines from 1911 - Dawes decided to stick to making pedal cycles, and the Humphries designed a range of sport machines. Prior to the First World War, OK motorcycles were fitted with De Dion, Minerva, Precision and Green engines. Subsequently the company fitted its own 292cc two-stroke and Blackburne 250 and 350 engines in both sv & ohv configurations. There were also 348cc machines with oil-coooled Bradshaw engines and JAP versions from 246cc to 496cc. The 248cc racing models were famous. Walter Handley completed the fastest lap in the 1922 IOM TT 250 class at 51.00 mph on a Blackburne-engined OK Supreme.
From the mid 1920s the racing bikes had JAP engines. OK Supreme fitted their own 248cc engines in the early 1930s, retaining JAP engines for the larger capacities. During this period they added a 348cc OHC engined machine.
Among the last OK-Supreme models were ohv JAP engined high-camshaft versions with 248cc, 348cc and 498cc single-cylinder engines.
Although production ceased in 1939, a limited number of JAP 350cc racing machines were available until the death of John Humphries in 1946.