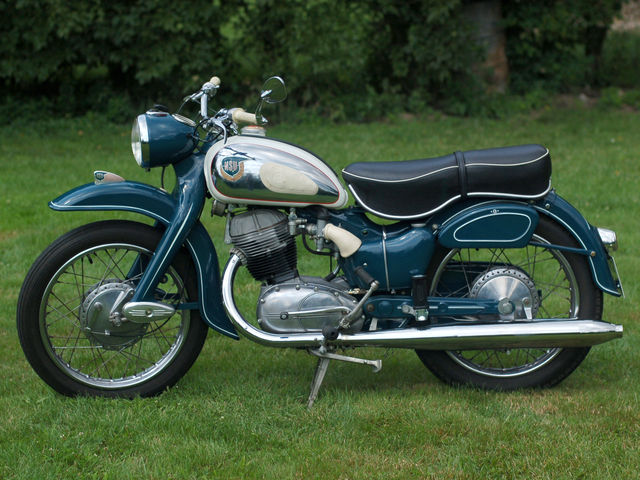 NSU Max from 1956. Air-cooled 247 cc single-cylinder OHC engine designed by Albert Roder. Power output: 18 HP at 6750 rpm. Foot-operated four-gear transmission system, chain drive. Weight: 155 kg, top speed: 133 kph.
NSU Max, the first model from famous NSU Max series (consisting of Max, Supermax, Special Max and Sportmax) debuted in September 1952. The frame, fork and suspension were based on earlier Fox and Lux models, but the engine was a novelty. The author of this unusual design was Albert Roder, NSU chief engineer.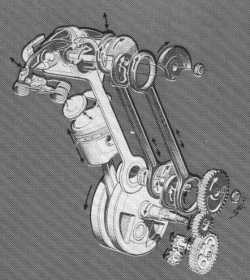 Max was powered by a single-cylinder OHC 247cc (69x66mm) engine with Ultramax system. "A unique cam-drive system consisting of two reciprocating connecting rods driven by eccentrics on a reduction gear, and driving eccentrics on the end of the camshaft. If you can picture the driving wheels on a steam locomotive, or the pedal rods in a kiddie car, you can almost get the picture. This system was silent, efficient, trouble-free, and so compact that the top end of the engine can easily be mistaken for a two-stroke. The motor could spin to then-astronomical revolutions that destroyed chains and formerly could only be achieved by towershaft drives..." (from "Rise and Fall of the NSU Empire" by Dave Tharp)
Thanks to Roder's genius in 1955 NSU became the biggest motorcycle manufacturer in the world. The company also holds 4 world records for speed: 1951, 1953, 1954 and 1955. In 1952 only 62 units were built, but very next year the production number reached 24 000. In 1955 Max was modernized; aluminium hubs with full-size drum brakes and bigger fuel tank were introduced, and the model name was changed to Special Max. In the same year NSU started to build limited series of Sportmax racing machines, and Hermann Peter Muller won world's championship in 250cc class riding one of them. Sportmax's engine developed 28 HP at 9000 rpm, and the bike's speed was 200 kph. Many famous riders, like John Surtees and Mike Hailwood were riding Sportmax in following years. In 1956 Supermax was presented, the ultimate model of this family. Adjustments to the engine were made, but the most radical change was a new rear suspension, copied from off-road Gelandemax from 1953. The power output was increased to 19 HP at 6500 rpm. According to NSU, top speed of this model was 127 kph. When in 1963 the last Supermax left the factory, the total production number of all Max motorycles was nearly 100 000 units, built in 11 years time.