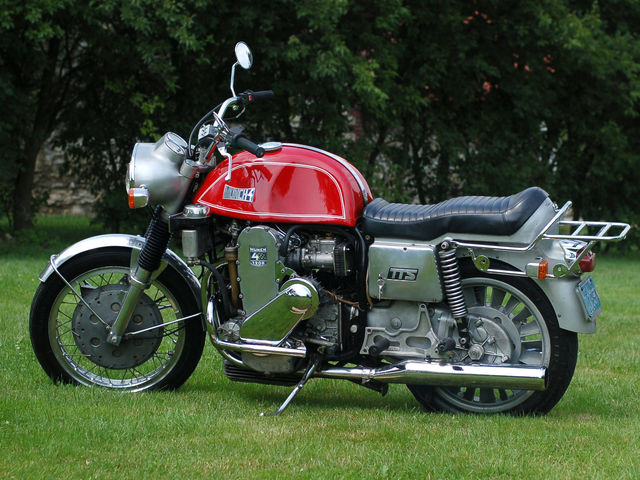 Münch TTS 1200 "Mammut" from 1971.
Friedel Münch, born in 1927, was a talented German engineer highly interested in motorcycle construction. After graduating from university he established a workshop specialising in Horex machines. Soon he was consiered to be best Horex specialist in Germany, but his aspirations were higher. Münch wanted to build the perfect motorcycle, in spite of the fact that motorcycles in this time weren't too popular. In 1966 he built his Mammut ("Mammoth") model with a four-stroke, four-cylinder 1000cc NSU engine. As a pattern for the frame he chose the classical double loop frame, into which the engine was installed tranversely. Later Münch switched to 1100cc engine, and finally he decided to use 1200 cc NSU engines and improved them, obtaining power output 88HP and top speed higher then 200 kph.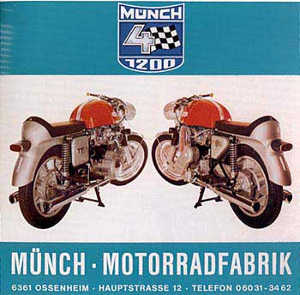 To start a mass production, he found a business partner; American millionaire and motorcycle enthusiast, Floyd Clymer. With his help, Münch managed to build 137 units in first three years. In 1970 Clymer sold his part of the business to George Bell, who invested in building a new factory in Altenstadt. Münch started to build powerful touristic machines based on Münch-4 model. In order to save weight, some parts of the motorcycle were cast of electron, a magnesium alloy normally used for aircraft construction. Most units were customized; fuel tanks, haedlights and other features could be changed according to client's wishes. In early 70s, Mammut was the most powerful, fastest and most expensive mass production motorbike of the world.