Motobécane MB2, a rare model of Motobécane lightweight 2-stroke motorcycle from interwar years. Motobécane started with introducing in 1923 a simple 175cc bike, available in two versions: Motobécane Madame for women and Motobécane Monsieur for men, with a higher frame. They were produced with only small changes until 1928. This motorbike is Motobécane Monsieur from 1926. It's fully renovated (More about renovation).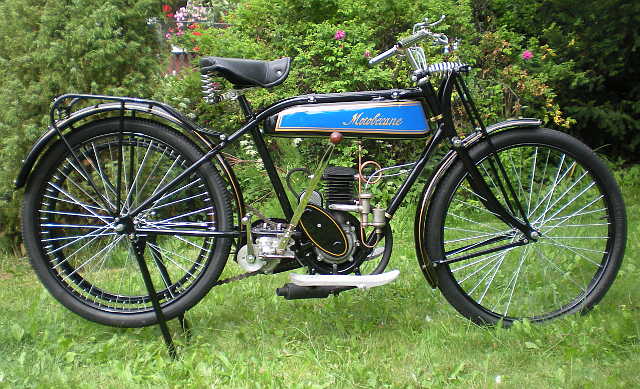 Motobécane history (based on Wikipedia article)
For many years Motobécane was France's largest manufacturer of motorcycles. Charles Benoit and Abel Bardin joined in 1922 and designed their first motorcycle in 1923, a 175 cc single cylinder two-stroke-engined bike. By the 1930s Motobecane was producing a best-selling range of motorcycles. Later they produced also bicycles and mopeds (see: Mobylette).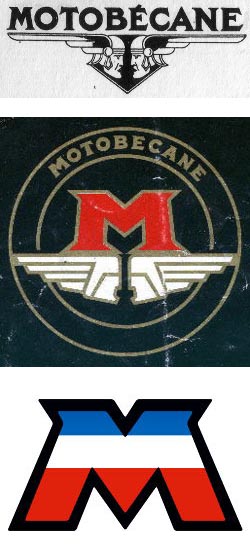 In 1933, they produced their first four-stroke machine with 250 cc capacity. During the 1930s, they manufactured a longitudinal shaft-drive inline-four engine motorcycle in 500 and 750 cc. In this time the firm entered road racing competitions and won the Bol d'or race (24-hour endurance race, held annually in France, usually in September. First it was motorcycle and automobile race, later automobiles were excluded). After the Second World War they produced the single-cylinder D45 motorbike that filled a need for cheap transportation. The successor was the Z46, equipped with modern suspension. Like many European motorcycle manufacturers, the 1960s proved difficult for Motobécane as cars became affordable. As a result, sales decreased. The arrival of cheap, efficient Japanese motorcycles also hurt sales. Still, Motobécane continued to produce two-cylinder 125cc motorcycles throughout the 1970s. They also manufactured a small number of two-stroke, three-cylinder 350cc and 500cc bikes. For a time in the late 1970s and early 1980s, the company competed in Grand Prix motorcycle racing claiming several victories in the 125cc class. in the 1980 they finished second in 125cc road racing world championship. In 1981, Motobécane filed for bankruptcy and was purchased by Yamaha and reformed in 1984 as MBK; the French company continues to make motorscooters. Motobécane logo was redesigned many times; to the left you can see several versions of it (top one being the eldest).