1942 Monark 500cc with 4-stroke Albin engine.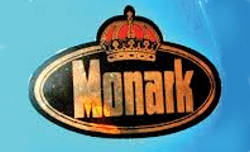 Monark, also known as Cykelfabriken Monark AB and Monark AB, is a Swedish bicycle, moped and motorcycle manufacturer, established in Varberg, Sweden 1908 by the industrialist Birger Svensson. Monark built its first motorcycle in 1913, however the name Monark wasn't used until 1927. In years 1920-1927 Monark used to build lightweight motorcycles for Esse company.
In 1927 the line of Monark motorcycles was introduced, with SV and OHV Blackbourne engines, 250cc or 600cc. In mid-30s Monark started to produce motorized bikes with Ilo 98cc engines. During WW2 Monark manufactured motorcycles for neutral Swedish army, using four-stroke 500cc SV Albin engines. They were patterned on Husqvarna constructions. After war Monark became the biggest Swedish motorcycle manufacturer. The company offered a number of models, mainly light two-stroke machines. They were fitted with other manufacturers' engines, like Ilo, Villers, Ardie, Husqvarna, Franco Morini and Sachs. In the 50s Monark was succesful in off-road motorcycle competitions. In 1954 they entered 8 bikes in the International Six Days Trial, a form of off-road motorcycle Olympics. All 8 Monark riders finished with Gold Medals. In 1959 Sten Lundin won the 500cc motocross world championship, riding the only four-stroke Monark motorcycle made in postwar time (Albin engine was used again).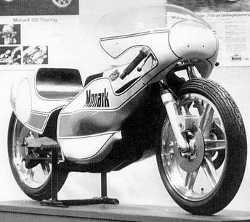 In 1961, Monark merged with Nymanbolagen into Monark-Crescentbolagen or MCB. Nymanbolagen was an old Swedish motorcycle manufacturer based in Uppsala, until 1947 known as Nymans Verkstäder. In the 70s Monark experimented with road racing and constructed Monark Crescent racing machine (to the left). Sales were dimnishing, though, and finally in 1975 production of motorcycles stopped. Today Monark is part of Cycleurope, belonging to Grimaldi Industri AB.