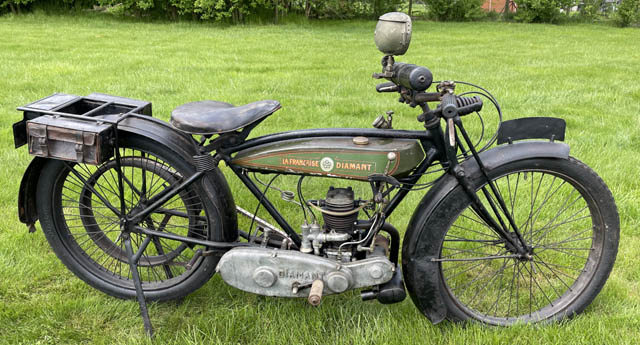 La Française Diamant, French motorcycle from 1920s.
La Française was founded in 1890 by Victor Pierre Besse and François Tripier, and endured a complex variety of relationships over the ensuing decades.
In 1901 the firm produced the Autocyclette Clément under license. In December that year they presented a motor tricycle at the Salon d'Automobile.
Models using Diamant engines were named thus, but there were also machines from 1905 listed in a catalogue for Societe La Francais with the brand of simply Diamant. They also sold automobiles and bicycles under the Diamant label in 1912, and in the same year they advertised LMD motorcycles with Diamant 64x75 2hp engines and Quentin 76x85 engines.
1913 saw the introduction of the Modele A Monocilindrique 64x90mm. The same catalogue announces the Modele B 2¾ hp V-twin, 54x75mm. There were also handsome automobiles.
In 1914 the factory address is given as 47, Rue Cartier-Bresson Pantin (Seine), with the head office in Paris at 8, Rue Descombes.
All of the 1914 models were named La Francais Diamant. The Type A remained in the catalogue and the Type E V-twin was introduced, 4hp 66x73mm, with pedals and belt drive, along with a more expensive Type E bis, sans pedals. A combination was also offered, the 6hp Type D, 68x100mm.
The company was absorbed by the Gentil group in 1923, after which their output was very similar to Labor, Alcyon, Thomann, Olympique and Armor lightweight models.
Before and after the 2nd World War they built BMA machines. (from cybermotocycle.com)