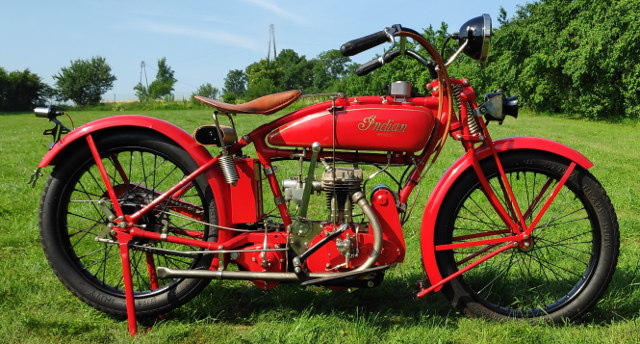 1926 Indian Prince. This model, designed for new riders, was produced from 1925 to 1928.
"Intended as an entry-level motorcycle, the Prince was promoted on the slogan "You can learn to ride it in five minutes."
Of course, Indian hoped those lured into motorcycling by the amiable Prince would return to buy a larger, more expensive Indian Chief, or perhaps the soon-to-be-released inline-four model.
With its 21-cubic-inch flat- head single and manageable 265-pound curb weight, the Prince made an ideal first motorcycle. Like most others of the period, it had a spring-mounted seat to make up for the lack of rear suspension.
In front, girder-style forks compressed a coil spring to provide a nominal amount of suspension travel. Also common for the era was the three-speed transmission and single drum brake fitted to the rear wheel.
A number of improvements marked the 1926 edition of the Prince.
Most noticeable was the European-inspired rounded fuel tank that replaced the wedge-shaped tank used earlier. A redesigned saddle lowered the seat height a few inches, and handlebars were lengthened to reduce the long reach to the grips." (from auto.howstuffworks.com)