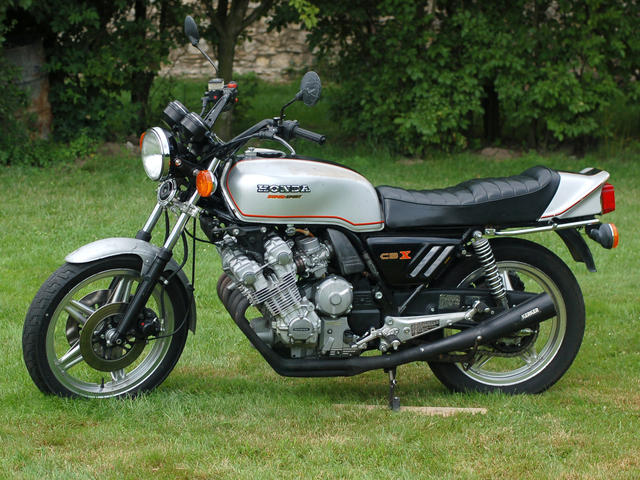 1979 Honda CBX1000. Japanese "superbike" with 6-cylinder 105 HP engine.
In the late 1970s, the four major Japanese motorcycle manufacturers all began to build superbikes, road bikes with superior performance. Honda intended for the CBX to help re-establish the company's position at the forefront of motorcycle technology. The company used 6-cylinder engines before, the construction was tested in Honda's racing machines in 60s, but the idea of building such bike for street use was revolutionary. American journalists were first introduced to the bike in 1977; a first review appeared in Cycle magazine. The review called the CBX a "breakthrough for the Japanese motorcycle industry" and praised its design, concept, and performance. Yamaha had already introduced the XS1100 in 1979; the CBX was available on the market in late 1979, and the production model was even faster than the prototype. The CBX was not the first production motorcycle to be powered by a six-cylinder engine—the Benelli 750 Sei had that honor—but it was the latest and the most advanced entry into the hotly contested superbike battle being fought by the Japanese manufacturers. The 1979 model's 11.36 second quarter mile time (at 117.95 mph) was quicker than other superbikes of the day.
Production years: 1978–1982
Class: Superbike
Engine: 1047 cc 24-valve, twin-cam air-cooled inline-6, 6 carburetors.
Transmission: 5-speed