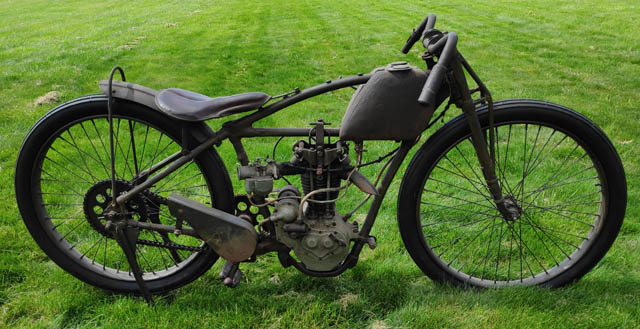 1926 Harley-Davidson SA racing motorcycle, nickname: Peashooter. This racing motorcycle was based on BA roadster with 350cc single overhead-valve engine and a 3-speed gearbox.
Only six vehicles of this type were built, four of them exported to Europe. This one, in brand new condition, was brought to Cracow. It was probably ordered by Jewish sports club.
"The Model SA was Harley-Davidson's entrée into the world's most popular motorsport in the 1920s, dirt-track racing, which brought tens of thousands of fans to every meet, from Australia to Argentina to England. The Peashooter was based on Harley-Davidson's roadster Model BA, the company's first overhead-valve road bike, but modifications at the factory turned it into a proper production racer. The SA had a highly tuned motor for racing on alcohol fuel, an excellent frame derived from the all-conquering Rudge chassis, a racing Schebler AMX12 carburetor and twin exhaust ports with stubby pipes. The Peashooter quickly proved itself on the dirt tracks of the U.S., where it was considered the best machine for the AMA's new racing series for 21 CI (350cc) machines in 1925—Class A racing...." (from www.mecum.com)
"The 'BA Model' was a new racing class established in the United States for motorcycles up to 21.35 cubic inch (350cc). H-D was able to use components from its production 21.1 cubic inch (346cc) Model A and B singles to develop the overhead-valve (O.H.V.) engine.
Model BAs were motorcycles with OHV engines with battery and coil systems.
The model got the nickname 'Peashooter' because the exhaust note when the bike was running sounded like someone blowing peas out of a tube.
The 'Peashooter' racer made its debut at a Milwaukee race meeting in August 1925." (from coachhousemuseum.nz)