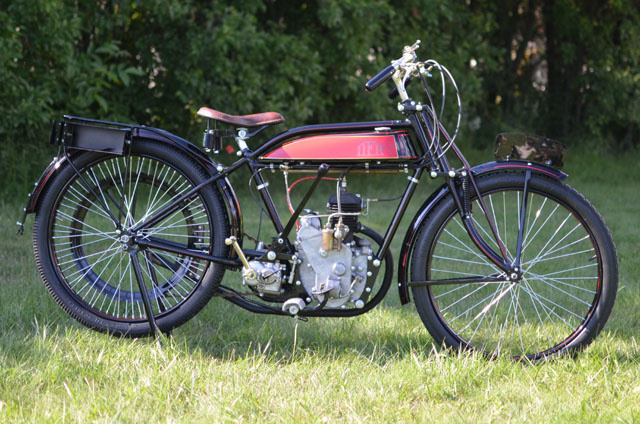 DFR, rare French motorcycle from 1923. Restored.
DFR motorcycle company was started in 1919 in Neuilly-Sur-Seine by François Désert and Pierre De Font-Réaulx. The brand was named with first letters of their names (Désert & Font-Réaulx). First two models, 250cc and 350cc, were exhibited in Paris in the summer of 1920. They were advertised as "simple, robust, moderate prices" vehicles. Désert and Font-Réaulx were taking care both of technical and commercial aspects of their enterprise.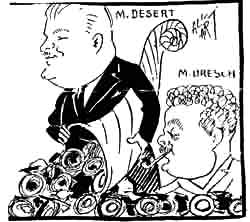 Caricature of François Désert and Pierre De Font-Réaulx published in Les Sports magazine. Image from motosdfr.free.fr
Two constructors were keen to achieve sport success: they took part in Liége-Paris race when only 100 DFR motorcycles were built. Both Désert and Font-Réaulx got injured. Next year professional rider Dubost won 4th place in Grand Prix de France with 350cc DFR motorcycle. In 1922 he took 1st place (still 350cc class). In this year the company introduced light 175cc motorbike and 350cc model was updated. To keep the price below 2000 francs, the company was selling the "popular" version without saddle, tyres and gearbox. This was to avoid the tax from luxury vehicles (priced more then 2000 francs). Missing equipment could be bought in separate pack for 290 francs.
DFR motorcycles were most often powered with proprietary engines, but they were not built in company's headquarters at 188. Avenue De Neuilly. DFR company was buing products of other manufacturers and rebranding them. In 1924 and 1925 DFR catalog listed 350cc model with Bradshaw engine.
DFR production in Neuilly was continued until 1929, when the company merged with Dresch. Dresch bought all rights to DRF brand, but François Désert and Pierre De Font-Réaulx kept high positions in the company and Dresch motorcycles from this time are basically identical with DFR motorcycles. In 1932 De Font-Réaulx left to join DAX company and since this time DFR name was never used again.