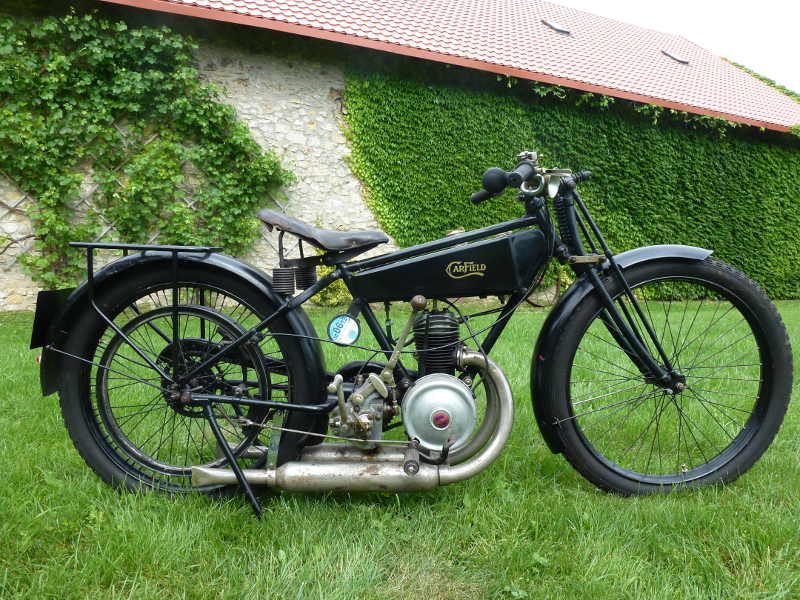 1925 Carfield "Baby" motorcycle, made by Carfield LTD Windmill Lane, Smethwick, Birmingham.
"After WW1 there was great demand for cheap two-stroke motorcycles. Mr Carter and Mr Fielding pooled their talents to found the Carfield Motor Co in 1919, offering a range of upmarket two-strokes using Villiers, Blackburne, JAP and Coventry Victor engines in frames of their own design. 'The Baby,' which was announced in 1923, was their best known model.
The 1923/1924 model was a belt-drive with two-speed Albion gearbox, and it quickly made a name for itself when Bruce Carter, director of the company, rode one to a Bronze Medal in the 1923 Scottish Six Days Trial of that year, covering over 1,000 miles in arduous conditions with few problems.This model is fitted with the optional kick starter which added £2 to the list price of £30 when new.
This chain-driven 'Baby' was added to the range in 1925, although the earlier belt-drive was available too. By the end of the decade there were too many motorcycle manufacturers offering similar machines, and sales fell. The company ended production in 1928. It is believed that eight examples of the Carfield Baby still survive." (from www.oldbike.eu)