R35 was used mostly by army and police. Four-stroke single cylinder engine 342 cc, 14 hp, 4 gears, top speed 100 kph (62 mph), fuel consumption 3 litres per 100 km. BMW made a host of successful shaft-driven, single-cylinder motorcycles. R35, based on earlier R3 model, joined this family in 1937 and was built until 1940.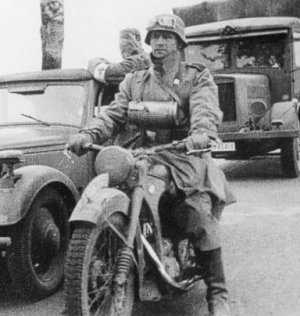 After the R3 with its 300cc engine had enjoyed very little commercial success, BMW introduced a new single-cylinder model in 1937. It was the R35, with modernized engine and suspension.The frame was still made from massive-looking pressed steel sections but the antiquated leaf spring at the front was now replaced by a modern telescopic fork. In contrast to the exclusive "Boxer" models, however, there was no hydraulic damping. By the close of production, the R35 was the most successful model in BMW's motorcycle history. Total production number was 15,386 units (sold at the price of 995 RM). To the left: photo of R35 from www.wehrmacht-history.com
After World War II, BMW no longer made R35 motorcycles. A motorcycle essentially identical to the pre-war BMW R35 was made by "Eisenacher Motorenwerk" (EMW) It was an East German manufacturer of automobiles and motorcycles based in Eisenach, then East Germany. One of the pre-World-War-II BMW factories was located in Eisenach, which after the war was taken over by the Soviets as it was located in the Soviet occupation zone. The factory continued producing cars and motorcycles using the BMW logo, but after a lawsuit in 1952 it had to change the name to EMW instead. The EMW logo was also similar, but instead of the blue BMW used, EMW used red.