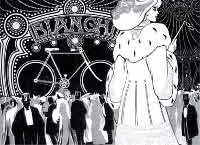 Edoardo Bianchi, a 21-year-old medical instrument maker, started his bicycle-manufacturing business in a small shop at 7 Via Nirone, Milan in 1885. At first he repaired bicycles, but in less then 3 years he started building them; he introduced one of the first safety bikes, as well as the world's first bicycle with pneumatic tires. 10 years after Bianchi entered the market, he built the bicycle for Italian royalty, Queen Margherita (the crowned eagle of the company logo is an adaptation of the former royal crest).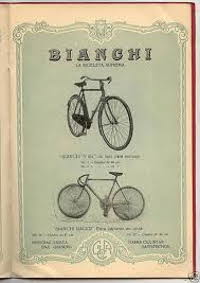 In 15 years, Bianchi was making 45,000 bicycles, 1,500 motorcycles and 1,000 cars a year. Bianchi's reputation in racing business began in 1899, when the company sponsored Giovanni Tommasello, the winner of the Grand Prix de Paris sprint competition. Bianchi bicycles are traditionally painted Celeste, a turquoise also known as Bianchi Green. Contradictory myths say Celeste is the colour of the Milan sky, Queen Margherita's eye colour or that it was a mixture of surplus military paint. Bianchi also took part in motorcycle races, where one of its first riders was famous Tazio Nuvolari. The company began making trucks in the 1930s and supplied the Italian army during the second world war. The factory had been heavily bombed, but shortly after peace returned the production was renewed.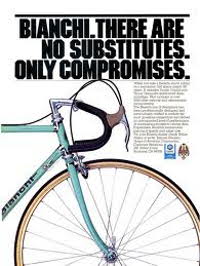 In 1955 Bianchi created a car brand, Autobianchi,, working with Pirelli and Fiat. The three turned out only a handful of models, almost exclusively small cars, the biggest being the short-lived Autobianchi A111. Fiat bought Autobianchi and integrated it into Lancia. Bianchi continued with motorcycles, particularly the 125cc Bianchina and the Aquilotto, an auxiliary motor for a conventional bicycles. Bianchi took on Lino Tonti as its research engineer in 1959. It produced 250, 350 and 500cc machines and took part in grands prix in 1960. The company also produced a model for the Italian army and a civilian scooter, the Orsetto 80. Bianchi motorcycle production was taken over by Piaggio in 1967. From 1997 Bianchi is part of Cycleurope Group, the Swedish company of Grimaldi Industri AB.