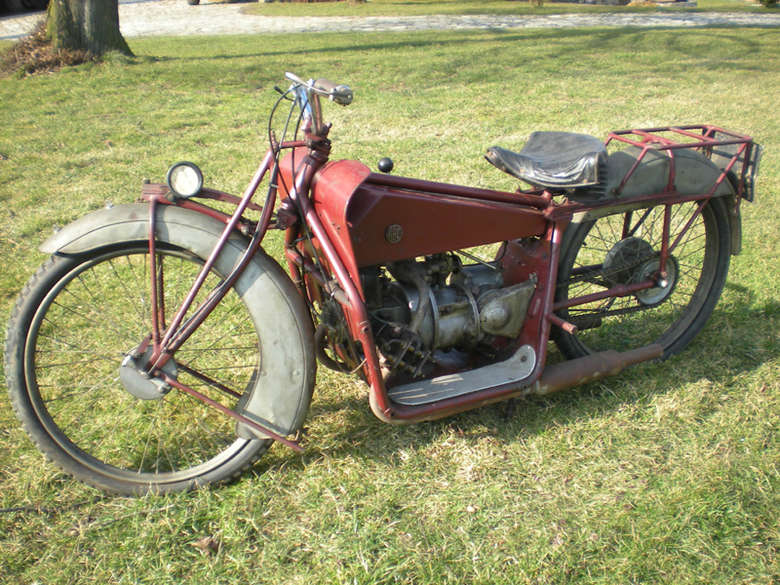 British ABC motorcycle built in 1920-1923.
The All British Engine Company Ltd. (later - ABC Motors) was founded in 1912 by Ronald Charteris in Byfleet, Surrey as a manufacturer of piston engines. The chief engineer was Granville Bradshaw. The company first became involved with the production of motorcycles when Bradshaw was asked to produce some special parts for a 350cc Douglas, owned by Les Bailey. This machine was raced at Brooklands and late that year set a new record. A new flat-twin ohv engine was also produced that year.
In 1913 several prototype ABC motorcycles were built and two of them took part in the TT. First success came in 1914, when the ABC machine ridden by Jack Emerson set a new 500cc record at Brooklands. This year two models were launched, both with flat-twin engine and conventional frames.
In 1918, ABC made a motorcycle with a 500 cc flat-twin engine mounted with its cylinders across the frame, several years before BMW adapted the design. Bradshaw challenged BMW's use of his patented design in 1926.
In 1919 ABC launched the Scootamota – an early motor scooter of very innovative construction. This year they also decided to sell the licence for their motorcycles to Sopwith, the aviation company based in Kingston-upon-Thames, Surrey.
In this time Sopwith attempted to diversify its activities and find employment for their 3,500 workers; after WW1 the need for aircraft had strongly diminished. The sophisticated and advanced machine Bradshaw built for them was a sensation at the annual Motor Cycle Show. It had a 398cc flat-twin transverse ohv engine, a four-speed gate-change gearbox, kick-starter, leaf-spring front and back suspension, internal front and rear expanding brakes and a cradle frame, footboards and leg shields.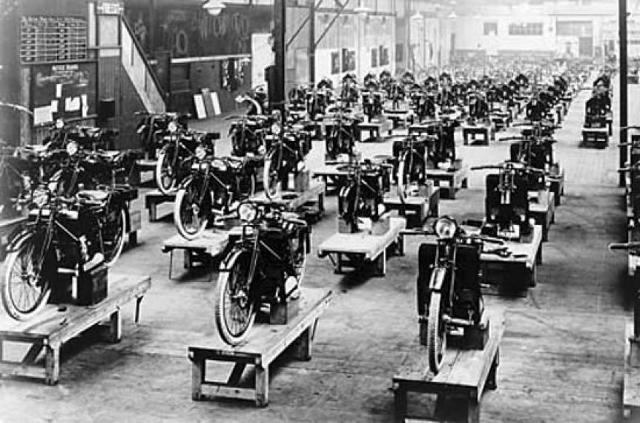 1921. ABC motorcycles in the factory
In 1920 a new company, ABC Motors Ltd was formed to make aircraft engines, light cars and motorcycles with a flat-twin engine designed by Bradshaw. Unfortunately Bradshaw's motorcycle was expensive to manufacture. Sopwith ran into financial troubles, and their attempt to produce a lightweight car made it worse. The production of ABC motorcycle in Great Britain was stopped in 1923.
The French company Gnome and Rhone continued to build ABC motorcycle under licence until 1925. This was improved 493 cc model. About 3,000 of 'French' ABC were built, but relatively few have survived.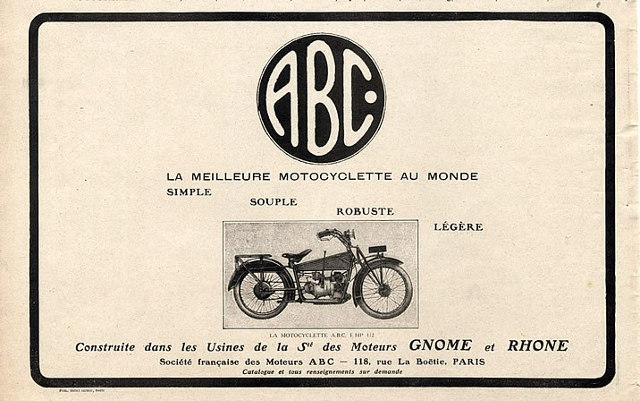 1919. Press advert of French ABC